For years I've wanted to experience Israel first-hand and thanks to Taglit-Birthright I was able to start my adventure. Not only did I get to travel with a 40 strong group of amazing people from across the UK, US and Israel, who I now know as friends, but I also got to taste, see, smell and learn about an incredible country with a tapestry of history and stories which will stay with me forever. Hidden between it all were charming cultural lanes bursting with colour, amazing food and you guessed it… gems. So here's my jewellery journey.
In the North of Israel lies a mystical destination. A centre for Kabbalah and artists, there is an endearing hippie and spiritual atmosphere. Filled with cobbled streets and art galleries, Tzfat was a curious little area for me to explore. In the midst of the crumbling stone walls is an abundance of turquoise, the colour is used to trick and protect against evil; reflecting the colour of the sky and sea, where God can be found. I knew before I left for Israel that one piece of jewellery I wanted to come home with was a hamsa in Israeli opal, and Tzfat delivered on exactly what I desired.
Another piece that caught my eye was a cute gold-coloured bracelet housing an artistic edit of the Shema, considered one of the most important prayers in Judaism. The belief is if you recite the Shema in the morning it will guard the person throughout the day and repeating it at night will guard the person as they sleep. When I rejoined the group it caught the eye of Alana and we ran back through the bustling, windy cobbled streets to re-find the seller and buy a matching bracelet before we had to scramble back on our bus to continue our Israel adventure. Well worth the sweat in the Israeli sun.
Here's a few of my favourite jewellery pictures from Tzfat before I take you to Tel Aviv, where I purchased my favourite pieces.
Skip forward to the very last day of my Israel Experience, now in Jaffa also known as Yafo, in Tel-Aviv. It is the ancient port city which has been regenerated and now bursts with areas of interest. Jaffa flea market is renowned for its selection of unique and special products (and oranges!). Here again I was in heaven with the streets that lay ahead.
I was first to pass a stall adorned with a curtain of necklaces as its entrance, once through, I was transported into an Aladdin's cave of silverware and old religious trinkets. It was there I spotted an old silver Siddur (Jewish prayer book) with turquoise beading embellishment. Although I always like to pick up something for the home when I am travelling this was far from what I thought I would leave with but felt like the most fitting purchase. Sold to me by a charismatic and comforting man, he gave me a discount after we had chatted for some time about my journey and the group I was travelling with. This is something I will treasure forever.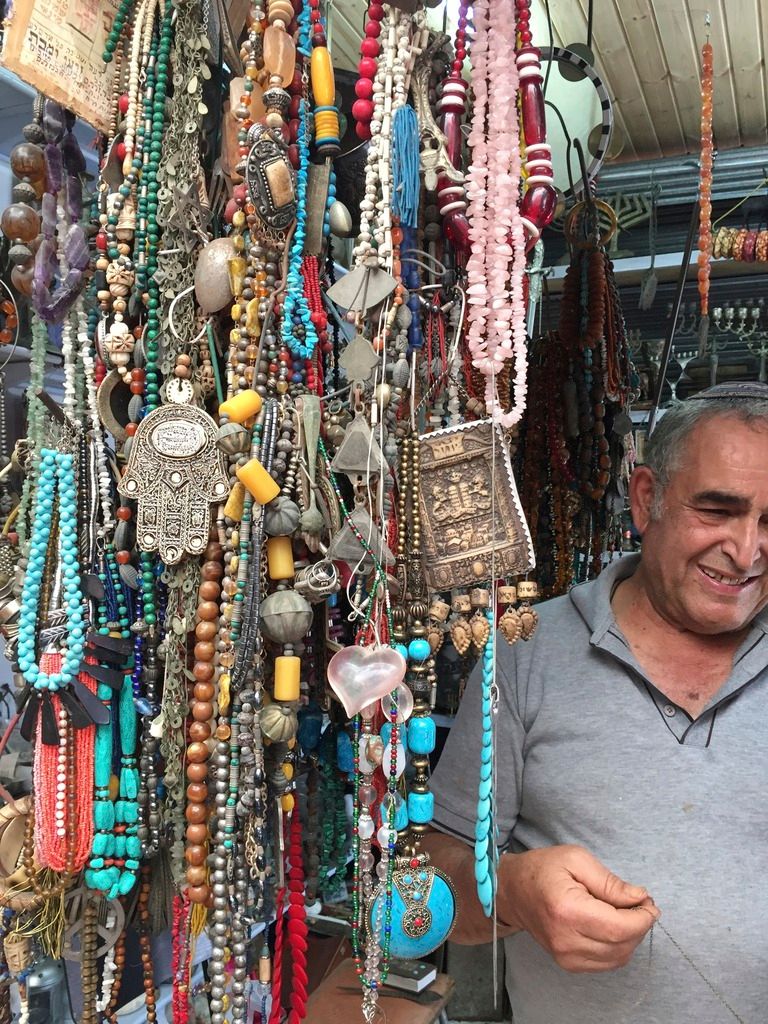 There was one thing that was missing. What I had been searching for my whole trip was a simple silver ring engraved with hebrew writing. I had wondered into one stall endeared from the unusual displays of framed jewellery and interesting looking masks. In there I met a rather blunt, yet charming Israeli woman who kindly let me take photos but was hasty to sell me something, anything. I told her all I was looking for was my silver ring to which she said she had no more, and told me off for not being flexible whilst visiting Israel and that I should open my mind to something new. I admittedly tried to zone her out as I kept looking around, until she called me back and had found out of literally nowhere the ring I had been looking for the whole time, etched with the Shema. It was quite a strange experience, I had become surprisingly connected with Israel, it was a place that made me feel that anything was possible with a little (a lot of) determination, spirit and hope. And this ring wasn't special just because it was something that I had been looking for the whole trip, but because I had been looking for it for 2 years, to replace a ring that I use to wear everyday. And although they both represent different memories, they both represent the same message to me and act as a reminder of how I want to be as a person. So on my last day I was leaving Israel finally feeling that I could go home and that everything will be ok and maybe what I left in the cracks at the Western Wall might even come true.
שְׁמַע יִשְׂרָאֵל יהוה אֱלֹהֵינוּ יהוה אֶחָד
אהבה